Brussels Annual Events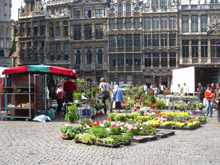 For a city with only a million inhabitants, Brussels has an active annual calendar of events. What's more, due to its central location in Europe, it hosts visitors from all over Europe to these festivities. Apart from museums, beer, and eating out, Brussels also enjoys celebrating its diverse cultural pass-times with film festivals, music festivals, marathons and historical enactments. For more politics, there is also the annual Brussels Forum. In this section, you'll be able to find a selection of annual events, which you may happen upon during your visit or perhaps come especially to enjoy.
The Bible according to The Cat
The francophone world's most popular and successful cartoonist Philippe Geluck launches the English version of the popular comic strip books "Le Chat".
Waterstones, Bld Adolphe Max 71, 1000 Brussels
30 October 2013 at19h00
Brussels Expo
Brussels Exhibition Centre located in the north-west side of the city is close to the Atomium and Kinepolis movie theatre. There are a host of activities and parks in that area to enjoy. Every year a multitude of exhibits are held here in the large grounds.
Brussels Forum
The Brussels Forum is a weekend conference of world leaders, industry groups and media in Brussels. Hosted annually at the prestigious Conrad Hotel on Avenue Louise, the topics are related to issues concerning transatlantic relations, international relations, climate and trade.
Film Festival
The Brussels Film Festival celebrates the talented directors and performers of the European film industry. The festival lasts for just over a week with around 60 movie premieres during this time and an annual film competition.
Jazz Marathon
The Brussels Jazz Marathon is an annual musical fest. During a weekend at the end of May artists from Belgium and around the world converge to play a massive 3 day concert. Outdoor stages are set up at the Grand Place, the Sablon and Place St Catherine and indoor venues include over 25 bars and cafés.
Christmas Market
During the month of December, Brussels city centre turns into a winter wonderland. Christmas magic is celebrated with lots of fairy lights, laser shows at the Grand Place and 240 shopping chalets (wooden stalls). A skating rink, ice sculptures and a Big Wheel are also included in the month-long fair.
Marathon
For those who are fit, or want to be, Brussels offers two annual runs per year. One is a 20km run in the spring and the other is a full marathon (42km) in autumn. The routes are challenging but scenic, all the city's most beautiful parks, monuments and architecture are on display.
Ommegang
The Ommegang is an annual re-enactment of the festivities that took place in the 1500s when Emperor Louis the Fifth made a visit to Brussels. The historical events come to life with costumes, make-up and performers dressed up in medieval folk clothing. A march takes place starting at the Sablon Church and ends at the Grand Place followed by a performance.
Flower Carpet
Every two years the cobblestones of the Grand Place are covered in flowers! They are carefully positioned into a giant tableau symbolising a piece of Belgian culture. Hundreds of flower growers and horticulturists come together to put on this magnificent show in August. Visitors can see the grand carpet from up-high in the Town Hall for a small entrance fee.
Be Film Festival
From the 26th to the 30rd of December 2013, come and join us for a celebration of Belgian cinema from both the northern and southern part of our country.
This very first collaboration between Bozar Cinema and the Cinematek will more than ever be a festive and unavoidable appointment for Belgian Cinema. A real retrospective of Belgian films which came out in 2013 - a unique chance thus to (re) discover them - and also a whole series of previews and special screenings. Note that during the Festival you can also meet the personalities behind the films such as the film directors and actors.
www.befilmfestival.be