Grand Place Brussels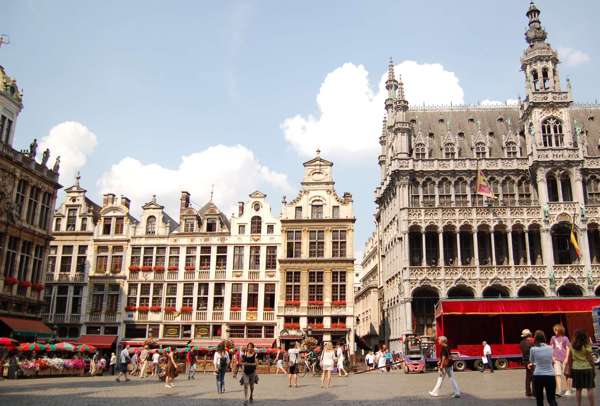 The Grand Place or Grote Markt in Dutch is one of the most beautiful squares in Europe with architecture from eras of Baroque, Gothic and Louis XIV. All these eras made their marks on the square giving it an eclectic flavour. This eclectic quality earned the Grand Place a listing as one of the Sites Of World Heritage by UNESCO in 1998.
History of The Grand Place
The Brussels Grand Place was historically a marketplace where traders and citizens traded goods. You can notice that streets surrounding the square are named after foods. Like butter (Rue au Beurre), herbs (Rue du Marché aux Herbes), cheese (Rue du Marché aux Fromages) and so forth. As the city grew, market stands gave way to grand buildings by which the Grand Place is surrounded to this day. The Maison du Roi, in French means king's house, but the lesser used name of Broodhuis in Dutch means bread house. Most of the buildings were rebuilt or restored after the bombardment of Brussels by France in 1695.
Atmosphere at The Grand Place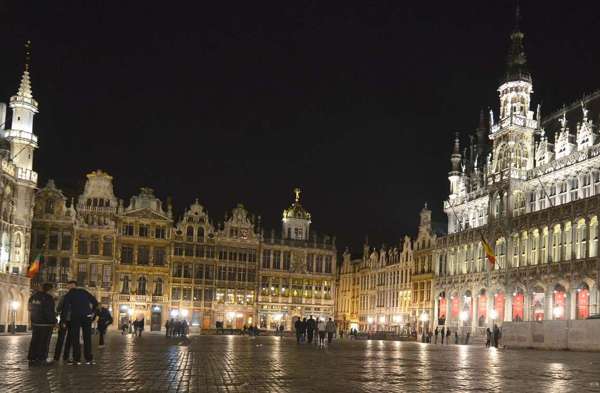 The Grand Place is always packed with people. There are tourists and school groups during the day and during the night, people sit on the stones in small circles drinking and talking. Overlooking them is the glowing Gothic tower of the town hall (Hotel de Ville), which one may mistake for a church or a castle. It acts as a great landmark because you can see the tower from most corners of the city.
Accommodation close to Grand Place
Most Brussels hotels are listed on a large booking engine. It offers live updated database of available hotel rooms and the possibility of instant reservation. It is the best way to compare. A trusted service with information, good photos and updated prices. You can access their listings of selected accommodation that is close to Grand Place through the link below.
Accommodation close to Grand Place, enter your travel date to see prices.
Grand Place restaurants
The restaurants and cafés around the Grand Place are worth visiting if you are in the area although slightly pricey, as to be expected. In the small alleys you will also find many Greek or Turkish style restaurants which are good for a quick bite but doesn't represent the finest of Belgian cuisine.
Location in Brussels
This most common place for tourists to meet is slightly off-centre on the Brussels city centre map. It is to the west of Brussels Park, a large green rectangle on the map. The Grand Place is surrounded by main streets: Rue du Midi, Rue Marche aux Herbes and Rue du Lombard but connected by alleys. Walk down one of the alleys such as Rue au Beurre or Rue des Chapeliers to get to the Town Hall located right at the Grand place.
Metro stops: Centrale, Bourse, De Broukere.
Brussels Grand Place on map