Getting around in Brussels
It is easy to transport around the capital city of Europe. There is a well-developed public transport system for pedestrians and there are many boulevards for drivers. The city centre itself is compact so there are good walking trails to take when you are touring the city's main attractions.
Airport to city
For information on airport to Brussels city transport read our Zaventem to Brussels and Charleroi to Brussels pages.
To read about how much it costs to park a car in Brussels and where are the safest places, click on the link above.
The public transport system is made up of the metro (underground trains), buses and trams that criss-cross the city. All of these services are operated by the same company STIB and therefore share the same ticketing system. This makes it easy to make transfers and to purchase tickets. Intercity trains are operated by a separate company SNCB but all the railway stations are connected to metro stations, tram stops and bus stops. The Brussels Card includes a public transport pass and is a recommended buy.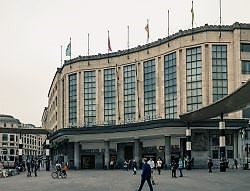 There are three main railway train stations in Brussels. All of them have trains that depart to other cities in Belgium and to other cities in Europe. Note that in Brussels everything is bilingual (French and Flemish) so you have to know both versions of the stations before you search for information, look at maps or book tickets online.
There are 5-6 major car rental companies that offer their services to travellers arriving at the airports (Brussels Airport and Brussels Charleroi Airport) and also Brussels-Midi station (Avis, Hertz, Europcar). It is better to take a car if travelling for more than 10 days or so because insurance and taxes can then be spread out and make it an affordable option.
All taxis need to be taken from marked taxi stands in the city or you can wave them from the street if you are more than 100 metres from a taxi stand. Note down telephone numbers of taxi companies and what taxis should look like in general to ensure you are taking a taxi.