Brussels Film Festival
The Brussels Film Festival refers to the annual early summer film festival for European films. About 60 films are premiered over 9 days. There are free concerts and open air screenings every night of the festival. A grand opening is held with red carpet reception.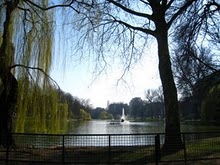 This event is also marked by a competition featuring films from European directors (judging their first or second feature film). There are about 14-15 films each year judged by a jury of actors, actresses and directors. The major award is the Golden Iris Award for best film of the festival. The movies are definitely not blockbuster; they lean towards thought provoking independent films.
Most of the films are shown at Flagey at the end of June and early July. The rates for adults are €6 with reduced rates (€5) for those under 26 years of age, seniors, unemployed and disabled. There are also non-personal passes at €25 for 6 screenings. Film students have a great deal; they pay only €8 for all public screenings.
Film festivals with specific themes are also held throughout the year to focus on certain genre or films from different countries.
Location
Most films are screened at Flagey, a modern centre for culture in Ixelles Ponds. This is also the venue for many concerts and theatre.
Flagey
Place Sainte Croix
1050 Ixelles
Belgium