Brussels hop on hop off tourist bus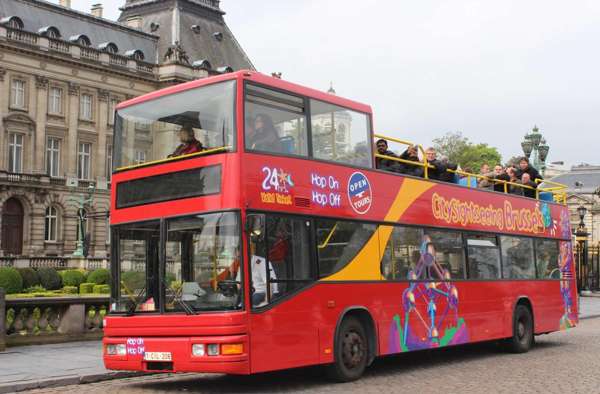 Tourist bus is a comfortable way of sightseeing without getting tired from managing the whole tour. It costs €32 for 48 hours and covers most Brussels attractions. Many people choose to do the whole circle around city first. To look around, listen to audioguide (in most world languages) and after that hop off to see the attractions.
Hop-on Hop-off bus concept
The Brussels hop-on hop-off bus goes around the city and stops at famous attractions. You can get off-board, check out the attraction and continue the route by getting on another bus whenever you feel like it. No group stress or time constraints make this a really pleasurable option. Audioguide about the route is available in most world languages.
Tickets
Ordering process:
Select the number of tickets on the ordering banner and then hit the "Order now" button.
A window will pop-up where you insert your name, e-mail address and other needed info. Don't forget to choose your payment card type in the vertical column. If you don't see this window, then minimize your current browser window and other programs. It might be below them.
After clicking "Make your payment" you will be redirected to payment gate where you enter credit card info.
Within 24 hours but usually much sooner you will receive an e-mail with your tickets.
Map
This Brussels sightseeing bus ride features 2 lines and covers a large area of Brussels city. You can see the route on this Brussels hop-on hop-off bus map.
Schedule
Find table for the month of your Brussels visit:
January, February, December
Frequency
First departure
Last departure
Mon-Fri:
45 min
10:00
14:30
Sat:
30 min
10:00
16:00
Sun:
30 min
10:00
15:00
March, November
Frequency
First departure
Last departure
Mon-Fri
& Sun:
30 min
10:00
15:00
Sat:
30 min
10:00
16:00
April, May, Jun, September, October
Frequency
First departure
Last departure
Mon-Fri:
30 min
10:00
16:00
Sat:
15 min
9:30
18:00
Sun:
15 min
9:30
17:00
July, August
Frequency
First departure
Last departure
Daily:
15 min
9:30
18:00