Brussels Nightlife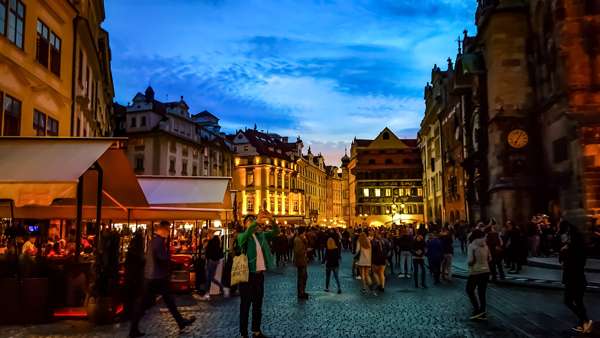 The nightlife in Brussels is relaxed and slightly quieter than other European cities but there are still some good places to go for dancing or just chilling with friends around a table with drinks. Lounge bars and clubs are the most popular and there is a focus on DJs playing good music, comfortable seats and good drinks.
Located in the north of the city, the Brussels red light district is not very well-known, but it will offer a sneak peak into some adventures for those who are curious to venture there. Watch out though, it's not the safest place in the city so keep one hand on your wallet or handbag at all times.
Brussels pub crawls
To meet other nightlife loving people and visit places with a well connected guide, you can join the Brussels pub crawl. It is a recommended option for people who have it harder to jump into the crowd. You get free entrance to venues and free shots, but most importantly you won't feel lost and alone in this busy city. Go have a look at their Brussels pub crawl reservation page.
Brussels clubs
The best clubs in Brussels are scattered all over the city rather than on a central strip. Clubbers normally choose one or two for the evening and stay there to dance the night away. The party starts around midnight and go into the early hours of the morning. There are no maximum opening hours or alcohol sale restrictions.
Red Line
Located in the middle of an ancient forest! But still not too far from the city, this is a large barn-like building to the south of the city. The music is modern hip-hop and pop remixes and there is space for dancing and lounging. No cover charge and you can only get there by taxi. 782, Chaussée de Waterloo.
Mirano Continental
Located at Madou metro. On a normal Friday or Saturday night, this trendy club plays a good selection of pop, house and dance music but at least once a month, themed parties are also hosted. Some of the amenities that make this club are: a stage, revolving dance floor, balcony, salon bar and a really nice dressing room for the ladies. Cover charge is €10 for women and €15 for men. The dress code is trendy / stylish.
You Night Club
A trendy nightclub for young people located in the centre near the Grand Place at 18 rue Duquesnoy. This club has even more theme nights than the Mirano and good, loud music from top DJs in Brussels. Dress to impress to get into this trendy number. The cover charge is €10 and includes a drink.
Brussels bars and lounges
Chilling out at a bar or lounge space with cocktails and beers are more of the style of Belgians', who are laid back and enjoy talking and people watching. These next few suggestions are just some of the bars that are frequented by people who prefer a chilled out evening. On hot summer evenings you will also find the stretch of pavement along Toison d'Or in the Louise area filled with tables and people sipping drinks until midnight.
PP Café
Tables to cater for groups and very loud music! The PP Café is on 28 rue Jules van Praetstraat. It doesn't have comfortable couches but it's still a trendy Belgian style bar that has live concerts and live DJs every few nights. They have a large range of beers and cocktails. Happy hour is between 7pm and 9pm everyday.
The Flat
This is a unique concept bar that has taken the imagination of Brussels people and foreigners working here alike. The Flat is a recreation of a traditional apartment with living room, bathroom etc and some of the popular drinks are sold at 'market price' meaning depending on demand the price of the drink will go up or down during the evening. Great for a comfortable home away from home party.
Pure Bar
A bar with a unique concept. If you want to try something a little more exotic than the Pure Bar, located near the Grand Place, has shishas (water pipes) and, for the adventurous, oxygen. This bar has cushions for you to sit on and platforms to lie down to have a good relaxing drink and chat with friends. Rue des Pierres, 46.
Brussels nightlife during the week
The Brussels social scene is filled with venues to enjoy a drink outdoors during the weeknights. This special attraction towards the outdoors has lead to Brussels events such as street drinks, al fresco dining and partying in the middle of traffic islands.
There are spots all over the city where you can enjoy a beer, a glass of wine and some nibbles – affectionately called 'apéro' in French – before a meal. In many cases the apéro fills you up with beer so you don't eat too much! For weekday visitors, come along to one of these gatherings to feel the true Brussels cosmopolitan atmosphere.
Wednesdays at Chatelain
A bright and colourful mix of trailers and stalls set up to serve hungry and thirsty people after a long day of work. Most of the cafés and bars around Place Chatelain change their operations to serve only 3-4 types of drinks in great quantities. Prices are always reasonable, at €2 to €3 for a good beer. There are also fruit stands, cheese and meat stands for shoppers who want to purchase fresh produce before heading home. The food stalls pack up around 7:30pm but drinks are normally served until after 9pm. Restaurants in this area are also highly recommended.
Thursday after-work drinks
After work drinks on Thursdays are popular, especially for large company executives and employees of the European Union who like to network and exchange business cards – even on the dance floor! Areas with many bars serving up drinks and cocktails and an occasional dance floor are Place du Luxembourg, Place Flagey, the Havana Club at Place Poelaert and also at the Mirano @7 club. Entry fees apply for the Havana Club and Mirano @7 to keep these establishments exclusive.
Friday Apéros
A whole host of bars, alcohol brands, cafés and even Cinenews joined together to put on a great Friday night drink called "De Stad Apéros Urbain". The venue is in a different outdoor spot in the city every week! Especially in the summer time, it's an open air party that goes from 5pm to midnight. Music is included. A wonderful crowded gathering of people at some of the city's most beautiful parks and pieces of architecture, no entry fees, it's a must try.
Brussels is a cultivated place with lots of choices. If you want to go for a glamorous night out visiting opera, orchestra or cinema then read our Brussels culture webpage.