Public Transport in Brussels
Inner-city Brussels public transport uses unified ticketing system so you can use the same ticket for bus, metro, tram or a combination. The most basic ticket is a 1-hour "jump" ticket which entitles the traveller to use any inner-city public transportation for 1 hour from the time of validation. These can also be purchased in groups of 5 or 10.
Airport to city
For information on airport to Brussels city transport read our Zaventem to Brussels and Charleroi to Brussels pages.
Public transport pass
To freely use all buses, trams and metro trains in Brussels area you can order the Brussels Card which includes a public transport pass and is a recommended buy.
Brussels Metro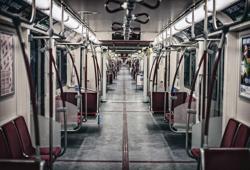 The Brussels Metro system (underground train) is of one the most convenient and fastest ways to travel to the main destinations of the city centre. There are 4 metro lines and 2 tram lines that service the Brussels city centre. Metros run frequently: every 3 minutes at peak; every 10 minutes after 8pm; every 5 minutes on weekends.
Purchase tickets at GO machines in the metro stations. Validate your tickets at the little machines before hopping on the metro or you may be fined. Doors to metro trains and trams do not open automatically so be sure to pull the leaver or press the button on the door before you miss your stop.
To orientate yourself at metro stations look for the info symbol when you alight and there will be a map of the street above for you to determine which exit to take. These maps can also be seen at tram and bus stops and are very useful! There are vending machines for drinks, snacks and prepaid mobile recharge at almost every metro station and platform.
Brussels Bus
Buses are convenient if your departure point or destination is not close to a metro station. Buses have timetables which are available at each bus stop and also online but they do not run as frequently as the metro so it pays to check the timetable before waiting at the bus stop. Tickets can be purchased from the driver at €2 for a 1 hour 'jump' ticket, which can be used on the metro and trams as well. Tickets are cheaper when purchased at a metro the station.
Brussels Tram
Trams are similar to the bus and metro except they are slightly slower than the metro and slightly more frequent than the bus. It will depend on your route whether you should take a tram, a bus or metro to your destination. Tram lines run along the street and sometimes on the same line as cars because there isn't a lot of space on some narrow streets! So watch out for cars as well as trams when crossing the road. Arrival times, departure times and stops are shown at each tram stop. There are also convenient street maps at each stop.
Brussels Train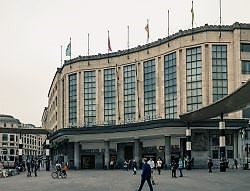 The intercity train system is very convenient for making day trips from Brussels to the other major cities in Brussels. Trains run frequently throughout the day (at least 1 train per hour) and tickets can be purchased from any railway station (marked with a B with a circle). All tickets have open time schedules so you can board at any time during the day. Tickets are stamped on the train after you have boarded. To check out how long it takes to go from one city to another see Travel to Brussels.