Brussels weather and climate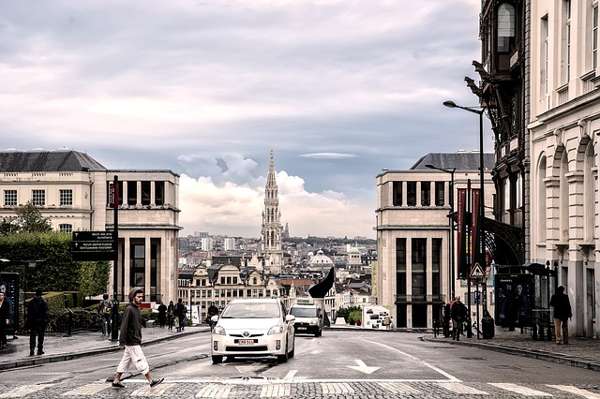 Brussels has a temperate climate with four seasons spanning the whole year. Temperatures are relatively mild during the whole year with the average low at 1°C in winter and only 23°C in summer. Winds tend to be slightly stronger in winter but the most constant weather pattern would be rainfall. Snow is possible but doesn't occur very often.
On average Belgium gets more rainfall than the UK and slightly less than the Netherlands, the rainiest months are July (mid-summer) and December (early winter). The month with the least rain in Brussels is actually April (mid-spring) – but still carry a fold-up with you just in case. Despite so much rain, humidity is moderate (around 50%).
How much does it rain in Brussels
Expect rainfall to be similar to London and Amsterdam where overcast skies are typical for most of the year. When the sun is out, Brussels has a very blue sky – not that many high rises to block the sun – and it is a magnificent city to explore by foot. During the April-May season the rainfall tends to be lower so you will find many blue-sky days during the week.
Rains are usually forecasted quite well by the Brussels news but even if there is no forecast of rain still be prepared with an umbrella for late-afternoon downpours or the occasional 'spitting' rain. Keep a good fold up umbrella in your travel bag during spring and summer; take a waterproof jacket and boots for autumn and winter!
Best time to travel to Brussels
The best season to go for walks and cycle around the city and enjoy sunny blue skies without rain is mid-spring April-May. The weather is warm during the day but colder in the evenings so take a jacket and scarf. This is also just before the peak season for tourists so you can beat the crowds to the Grand Place and the Mannekin Pis and enjoy the sun without being burnt.
Summer holiday season is also a great time to take a Brussels vacation. Since its temperatures are still mild in summer (23°C) it is still possible to explore the city with some sunscreen and a good pair of walking sandals. Flip-flops are slightly less comfortable when they get caught in the cobblestone foot paths. It is also a good time to dine in al fresco style at many of the inner-city restaurants, pubs and cafes.
If you are coming to Brussels for the museums (all 87 of them!) then a good time is autumn (September-October) when rainfall is moderate. You will not only avoid the crowds but you can also sip warm wine and café lattes inside centrally heated or outdoor heated cafes and bars.
Brussels average temperatures and rainfall over the months of the year
| | | | | |
| --- | --- | --- | --- | --- |
| Season | Month | Low °C (°F) | High °C (°F) | Rainfall (cm) |
| Winter | January | 1 (34) | 5 (41) | 5.77 |
| Winter | February | 2 (36) | 6 (43) | 5.2 |
| Spring | March | 4 (39) | 10 (50) | 5.11 |
| Spring | April | 6 (43) | 14 (57) | 3.88 |
| Spring | May | 9 (48) | 18 (64) | 4.42 |
| Summer | June | 12 (54) | 20 (68) | 5.52 |
| Summer | July | 14 (57) | 23 (73) | 6.23 |
| Summer | August | 14 (57) | 23 (73) | 5.61 |
| Autumn | September | 12 (54) | 19 (66) | 5.02 |
| Autumn | October | 8 (46) | 14 (57) | 5.31 |
| Autumn | November | 5 (41) | 9 (48) | 5.6 |
| Winter | December | 3 (37) | 6 (43) | 6.22 |
It is easy to get to weather forecast these days. There are many options but most publications get their data from the same gevernment agency. Read more throuch the title above