Belgian Beer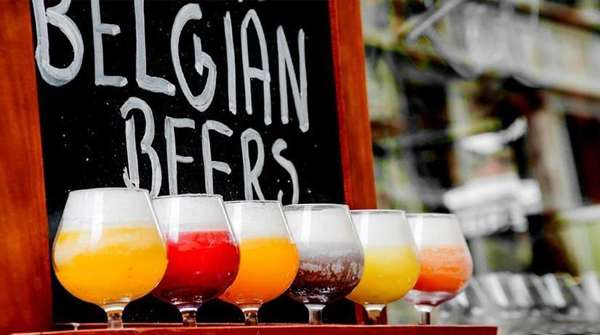 Beer is a big thing in Belgium and Brussels. The Belgian Brewers even have a small beer museum at the Grand Place that plays a video about the history of beer and the beer-making process. At the end, they will also serve you a cold beer. Belgian beer can be enjoyed at all times of the day or night, with lunch, apéro or dinner. There are 400 varieties of Belgian beer but you'll normally only find the most popular types on a beer menu unless you go to Delirium, where all 400 are served.
Within an atmosphere of authentic out-of-sight Brussels taverns, you will taste beers and pair them with foods. A 4 hour tour of beer and food guided by a beer expert with 20 years of experience.
Belgian beer cafés
Look in the lounge bars section for some suggestions on bars and cafés where you will find many top Belgian beer selections. Place du Chatelain in Brussels also has a large selection of beer cafés such as the popular Dukes. There are also many cafés around the Grand Place that offer beers; of course the prices will be slightly higher there.
À la Mort Subite
This is a very traditional Belgian beer café that dates back to 1928 and situated near the Grand Place. The name 'Mort Subite' literally means 'Sudden Death' because of a game that punters used to play when they went for lunch time drinks. You will notice it is also a brand of lambic beers – spontaneously fermented beers which include kriek, faro and gueze.
Delirium Café
They have all 400 varieties of Belgian beer and many other beers from around the world. It is located in a small alleyway near the Grand Place (Impasse de la Fidélité 4) and has been extended with a bar serving spirits and a bar serving absinthe as well.
Au Bar
On a lively stretch of road called Rue de Bailli, you will find a large selection of beer cafés and bars. Au Bar is one of four bars on a busy intersection of Rue de Bailli and Rue Simonis in the Chatelain area. There is a great warm atmosphere with tapas and large couches. Beers are cheap and served in ½ or full pints.
Poechenellekelder (Puppet cellar)
This bar is located on the corner of the Mannekin Pis or Peeing Boy statue near the Grand Place (Rue du Chêne 5), therefore it is quite easy to find and it is a gem. Within the small tavern is a large collection of puppets hanging from the ceilings and walls. If that doesn't put you off then you will thoroughly enjoy this venue. The waiters are knowledgeable about their beers and pour them in front of you if they're not too busy.