Brussels Comic Strip Event
30 October 2013 at19h00
Waterstones, Bld Adolphe Max 71, 1000 Brussels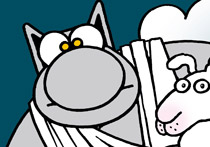 CatCreator Philippe Geluck, the Belgian cartoonist, humourist, star of stage and screen (the small one), and someone to whom the not-always-flattering epithet Big in Belgium can be genuinely applied (a phrase actually coined by Queen Victoria about Philippe Geluck during one of her trips to visit her Uncle Leopold), has decided that it is now time, in the spirit of unbridled globalization and planetary sharing, to send The Cat forth into Angloland - i.e. the-rest-of-the-world - so that all God's people can benefit from his wit and wisdom. And to do that The Cat has had to learn English, which, being a fat but smart fellow, he has done in record time.
The result is a brand new 192-page comic book entitled 'The Bible according to The Cat', the feline's first 'story' album, co-authored by Geluck and God *. The French edition is published on October 9, and the English edition on October 30 at a special launch event and signing at Waterstones bookshop. Entrance is free, and there will of course be the usual "refreshments" that are always welcome after a hard day at the office and before a long hard weekend - and there'll be some surprises.
* Of the two writers, only Geluck will be doing the media circus to promote the book. Although thrilled to be part of this double act, God will limit his appearances to the occasional book-signing. We don't yet know whether Waterstones will be on His list. Come along and find out ... .