Peeing Boy Statue Brussels - Manneken Pis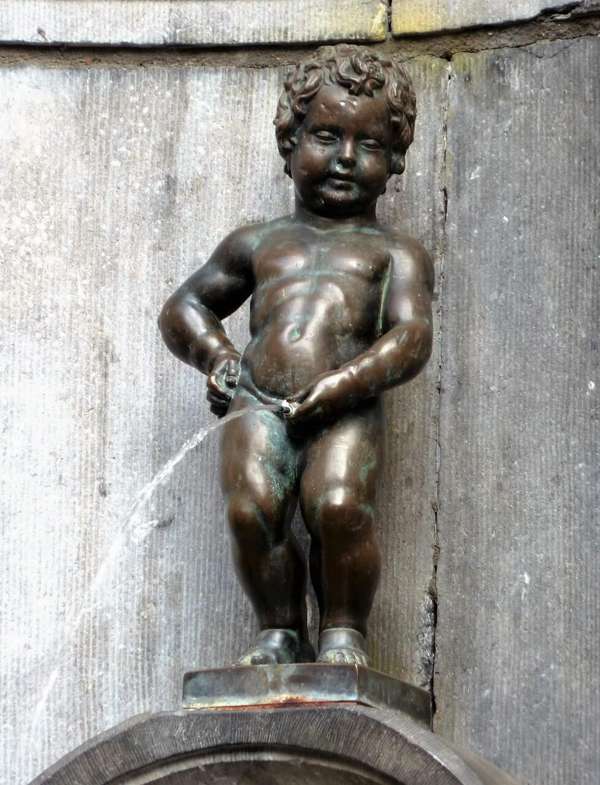 Upon arrival in Brussels one of the first attractions you are shown is the Manneken Pis (little pee man in Flemish). The peeing boy is a small bronze fountain statue from the 17th century that is tall just 61cm (24 inches). One would not normally call this art piece 'majestic', but the locals have so many stories and ways of celebrating with this little boy that even the toughest critic would find some fondness for the bronze doll.
Stories of peeing boy statue origins
Many great legends bring this little statue to life in the hearts of visitors, and the question is why was this statue erected? One story tells of a tourist father who lost his son in the city and after receiving help from villagers to find the boy, he gifted this statue to them. Another, more daring, tale is one where the boy was a spy during a siege of the city. He literally put out a ploy to bomb the city by urinating on the explosives! Many stories such as this have given the Manneken Pis a firm place in Brussels' city-life but none would compete with its present-day glory.
Celebrations with the Manneken Pis peeing boy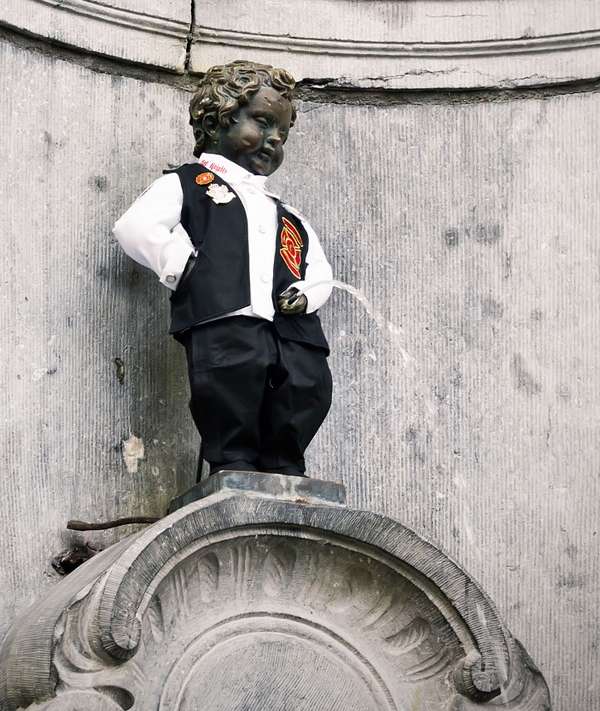 The people of Brussels don't simply look upon the cute statuette and show it to tourists. The Manneken Pis plays a full part in the city's annual calendar and even has an outfit for every occasion. Peeing boy's wardrobe ranges from Santa suits to national costumes from countries around the world. One of the recent additions is a red leather Chinese costume presented by the city of Haining, China. On special occasions, brass-bands would play here and Manneken Pis would be hooked up to different flavours of Belgian beer, which is poured from his fountain tip and given out to the public. With such love and care for the peeing boy, who needs Big Ben? :-)
To give peeing boy a playmate, another statue was built called Jeanneke Pis in the 80s. This other statue is a little girl fountain, but she is lesser known and hides in an alleyway a short distance away from Mannekin Pis.
Peeing boy statue location
The Manneken Pis is located southwest of the town hall. If you are at the Grand Place facing the town hall take the exit on the left, the peeing boy is two blocks behind the town hall. Alternatively, you can walk from one of the metro stations mentioned below.
Rue de l'Etuve 31 / Lievevrouwbroersstraat 31
Metro stops: Anneessens, Bourse, Central
Brussels peeing boy statue on map