About Belgium
Belgium is a small county with a big population and many cities with interesting sites, elaborate histories and local delicacies. Belgium is the perfect country to visit to experience small city life, medieval and baroque architecture, the interesting language conventions and the fabulous array of food and beverages.
Tourism and Cities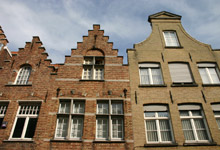 Tourism is a lively industry in Belgium. There is an excellent European railway network that can bring visitors from all over Europe to Belgium for day trips, weekend trips or even longer; and there are low cost airlines and that bring travellers from the Mediterranean and Eastern Europe quickly and affordably. The speciality of each city and town is down to its architecture, people and food.
Many people come to visit Brussels for its cosmopolitan city atmosphere, EU institutions and architecture at the Grand Place. In Brussels there are over 90 museums to see, including eclectic choices such as the Comic Strips museum and the musical instruments museum situated in the art nouveau building called Old England designed by Victor Horta.
Bruges (Brugge) and Ghent (Gent) are small towns in Flanders with amazing architecture and community atmosphere. Bruges is filled with tourists and has a gothic bell tower that can be climbed using a narrow spiral staircase; and for those interested in religious artefacts Bruges also has a church with remnants of Jesus' blood.
Antwerp (Antwerpen) is a must for the lovers of diamonds and the arts. It is said to be the cultural centre of Belgium and the shopping city of Belgium. Even locals of Brussels would venture to Antwerp for a Saturday shopping spree. Liege is a very small town in the south of Belgium, a major French-speaking city of Wallonia that has fantastic arts museums, ancient 12th century architecture and French-style cafes on the foot paths and boulevards.
Language
For a country so small, no one would suspect that you would need to switch into another language from one town to another. The language frontier that separates the north and south was implemented after the language movement of the 60s. Understanding the different language norms will help you understand Belgian culture!
Belgian delights: waffle, beer and chocolate
Belgium is a gastronomic experience in itself, with its international fame for waffles, beer and chocolates it has already established a name for quality and craftsmanship. Food therefore plays a large part in Belgian's lives and tourists flock to this country to sample its many fine restaurants, cafes and chocolateries (chocolate shops).
Belgian Waffles
Waffles (also called gaufres) are at every street corner in the city centre and can be found in most metro stations. In fact, they are a staple in Belgium, like the hotdog in New York or the croissant in France. Waffles are an easy snack on the run or a delicious dessert served with a range of chocolate or fruit syrups and ice-cream at a restaurant.
Belgium Beer
You may know this fact about Belgium, beer is equivalent to fine wine and enjoyed in restaurants, cafes and bars at all times of the day and night. Many of the best Belgian beers are served in specially designed glasses which are unique to each beer. Beer pouring is an art. In good bars, with a twist of the wrist and a flick of a beer knife, your beer is served in front of you. A fruit beer called kriek (made from cherries) has also become a standard on-the-tap beer.
Belgian Chocolate
Chocolates are another speciality in Belgium and the most famous and expensive chocolates in the world come from Belgium. Brands such as Neuhaus, Godiva and Leonidas are now internationally recognised and more people are appreciating the taste of fine handmade chocolates. Pierre Marcolini is currently the most expensive and preferred by locals - you can only find this brand in Brussels, Paris, Japan and New York.
Visiting Belgium – visa requirements
Visiting Belgium is quite simple for European travellers because there is a highly efficient rail network and budget airlines that fly between major cities. There are also no internal borders between countries under the Schengan Agreement. For all other countries outside of the Schengan zone, you will need a short stay visa to visit the Schengan zone for up to 90 days.