Parc du Cinquantenaire Brussels Belgium
The Parc du Cinquantenaire or Jubelpark is not only a park but a national landmark in Brussels. The name means 'Park of the fiftieth anniversary' and it was built during the reign of Leopold II to commemorate fifty years of Belgian independence.
Symbolically, the Cinquantenaire Park in Brussels is built in the shape of a pentagon, like the inner and outer rings of the city. Cinquantenaire sits just outside the inner circle, and is close to the European Quarter.
Visiting the arch and museums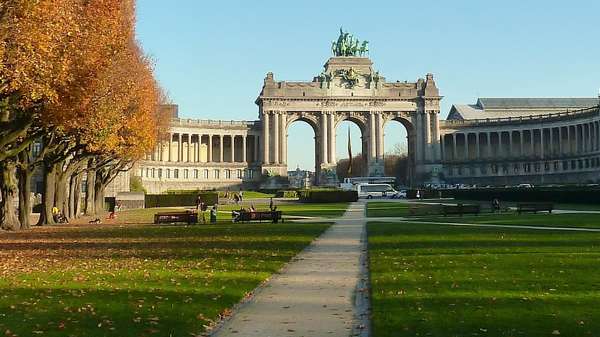 At the south eastern point of the park is a giant arch with two arms extending out. It is quite a monumental entrance. The two arms of the arch are home to three museums: The Autoworld, an art museum and an army museum.
Visitors can climb to the top of the arch for free from an entrance in the army museum to see a nice view of Brussels and European Quarter. On a clear day, you will be able to see far and wide.
Cinquantenaire Park hidden gems
Most visitors will stop at the fountain, take a photo of the arch and move onto other sites. But if you have some time to walk through the park you realise this is one of the most beautiful parks in Brussels. There are many tranquil places to rest and play, have a picnic, go for a jog or spend time on the benches reading. On a hot summer day, the areas within the park will be filled with sunbathers, thirsty for every drop of sunlight.
Cinquantenaire Park events
What locals know is that the entire area is populated with international people working among European institutions and large corporations, which have offices in Brussels. In order to keep everyone entertained throughout the year this Brussels park plays host to an endless number of events such as concerts, club nights, festivals, drive-through-cinemas, environmental days, aperitifs, and even the starting line to Brussels marathons.
How to get to Cinquantenaire Park
You can reach the front of the Parc du Cinquantenaire from the metro named "Merode" or the back of the park from "Schuman". At the Schuman round-about you will be able to see the park in relation to the grand boulevards and the European Quarter where the buildings were built to house all the offices of the European Commission and the European parliament.
Brussels Cinquantenaire Park on map