Autoworld Brussels
First thing to consider when visiting Brussels attractions is the Brussels Card. It will most likely save you time and money.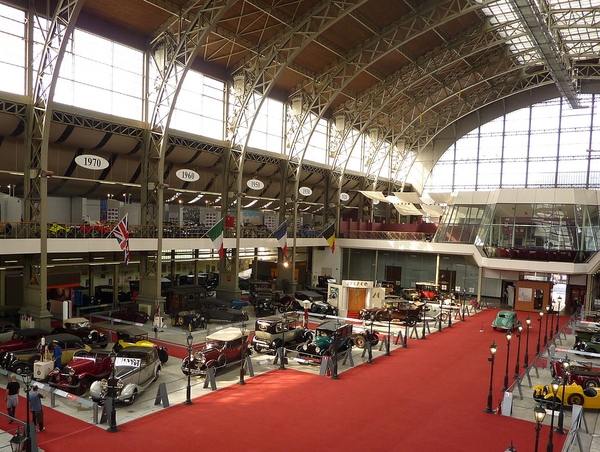 The Autoworld Brussels website calls the tour of this massive warehouse of over 400 vehicles a time travel experience. Housed inside one of the 'palaces' that make up the Parc du Cinquantenaire archway, Autoworld is a wonderland for both automobile enthusiasts and families. You can walk around admiring the rolling works of art for hours.
Buying tickets for Brussels Autoworld
To reserve your place use the reservation module. After entering your information you will receive an email with tickets. You can then print them or just show them from a smartphone or tablet.
Our tickets reservation service is managed by the company "Tiqets". They designed a well working system and we have great trust in our cooperation. The best thing is that with this service you will go immediately inside avoiding the waiting line because the reservation is already taken care of.
If you have any questions, the customer service is available seven days a week.
Brussels Autoworld tickets prices
Adults 12-64: €12
Seniors 65+: €10
Students: €9
Children 5-11: €5
Children 0-5: free
Brussels Autoworld opening hours
Open every day of the year.
In summer months (01.04 - 30.09.) from 10am to 6pm.
In winter months (01.10 - 31.03) from 10am to 5pm.
Autoworld collection
The cars are all European or U.S in origin so you won't find any Honda or Toyota models here. What you will find are cars by Packard, Oldsmobile and even Bugatti from 1928.
The first automobiles you see inside the Brussels Autoworld date back to 1886 when the humble horse-drawn carriage gained an engine and a steering wheel, and discarded the horses. And you will finish at a blank space reserved for future models.
Autoworld tour through the exibit
The first exhibit on the main floor is divided into two. Start your tour by walking up the centre aisle and look to your left side, walk around in an anti-clockwise circle. When you have completed the full circle walk up the centre aisle again and work your way clockwise on the right side of the floor. This is a chronological tour of cars from different makes.
At the very rare of the first floor on the right corner is a small room that you may miss but is worth a look. Inside, away from roaring engines and gas guzzlers are horse carriages, including the one used in 1853 for Napoleon the Third's wedding.
The mezzanine floor has an evolutionary timeline of cars from the late 1800s to the 2000s and a blank spot for "the future". This brief tour will highlight the makes and models most popular in Europe in each decade. A great chance to admire the first models of Ferrari and Jaguars which look nothing like they do today.
On the right as you exit is a shop where you can buy some souvenir keychains and postcards but most importantly thousands of miniature model cars for every make you can imagine. Great for young children.
Address:
Autoworld
Parc du Cinquantenaire 11
1000 Brussels
Metro stop: Merode or Schuman
Brussels Autoworld on map