Brussels Comic Strip Museum
First thing to consider when visiting Brussels museums is the Brussels Card. It will most likely save you time and money.
Officially called the Belgian Centre for Comic Strip Art (Centre Belge de la Bande Dessinée or Belgisch Centrum van het Beeldverhaal), the Comic Strip museum is an exploration into one an evolving art form, the comic strip.
The adventure begins with the process of comic creation and a gallery of original comic strip artwork. The next floor is an exploration of Belgian artists in the "Museum of the Imaginary". Here we are introduced to the story of Tintin and its creator Hergé, who was born in Brussels; followed by other Belgian artists such as de Moor and Tillieux.
On the top floor in "The Museum of Modern Comics", the display takes you on a journey through the evolution of comic books in Europe (1929 to 1960). From the beginning, when comic strips such as Tintin and Spirou were for children until the modern day where graphic novels are being created for mature audiences. These new comics no longer follow the same rules as cartoons; they deal with topics such as politics, violence and sexuality without hindrance or censorship.
Finish off your experience with a tour inside the museum shop which is dedicated to the sale of comic books, manga (from Japan), posters, t-shirts and figurines. These are fantastic souvenir and gift ideas if you don't fancy taking a Mannekin Pis statue home. You will discover quickly that unlike comic books in the U.S. which are thin and black and white, the comics in Europe are hardcover books with at least 60 pages and are normally in colour. There is also a research library with over 60,000 comic books and a restaurant.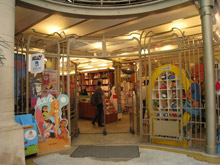 For those interested in architecture, this museum is located in a building designed by Victor Horta in the art nouveau style. Called the "Magasins Waucquez", it was formerly a department store. Notice the support beams, gates, staircase, skylight and tiled floor as you walk in; these are all reminiscent of the style of the early 1900s.
Open Tuesday to Sunday from 10am to 6pm.
Adults…€7; students with identification…€6; children under 12…€3
Brussels Card…Free
Group discounts are available.
Location in Brussels
The Belgian Centre for Comic Strip is near the 'Congress' monument of Brussels, where the tomb of the Unknown Soldier lies. You will also be able to walk to this location from the Grand Place by walking through Gallery St Hubert and straight past three blocks. Rue des Sables is on the right side.
Address
Belgian Centre for Comic Strip Art
Rue des Sables 20
1000 Brussels
Brussels Comics Museum on map