Brussels Architecture Sights
Brussels has a collection of buildings with historical significance and value to the city. Apart from the buildings already mentioned on the attractions page, there are a few more interesting buildings and design styles to tour and admire in Brussels. Including the famous art nouveau style of the late 1800s and early 1900s. The best way to see these buildings is by taking a walk or cycling.
If you enjoy the beauty of architecture then you might enjoy this
guided tour about Brussels Art Nouveau.
Brussels Art Nouveau
Of all the examples of architectural style, Brussels is very proud of its art nouveau era (c. 1890-1920), when Victor Horta was a famous designer, known throughout Europe for his contemporary architectural constructions. Art nouveau was the first art form to move away from historical inspirations like roman bas-relief and columns. It takes its inspiration from nature. Cervical lines, flowers, leaves and rustic colours are common motifs.
The larger art nouveau examples include Victor Horta's Wacquer warehouse, which is now the home of the Centre of Comic Strip Art, the Old England building, which is now the Museum of Musical Instruments and La Metropole, the most famous hotel in Brussels. You can read more on our Brussels museums page. And to find more walk ideas go to Brussels walks section.
Bourse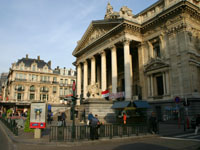 Formerly the home of the Brussels Stock Exchange, it is now the Brussels office of the Euronext Exchange, a pan-European Stock Exchange that replaced the Brussels, Paris and Amsterdam stock exchanges in 2000. Its historical significance dates back to 1868 when the Senne River was covered for health and sanitary purposes and a new building was erected at the Place de la Bourse in a city beatification project. The Bourse building was crafted in the neo-Renaissance and Second Empire styles. The whole building has been designed with hundreds of sculptures and bas-relief, allegories for Brussels, Freedom of Trade, Africa and Asia are crafted in and around the building. Located in the centre of the city behind the Grand Place along the Anspach Boulevard.
Belgium has made a mark on the world in more ways than chocolate and beer, the European Union and all of its administration has been welcomed to the city since the very beginning, 60 years ago. The European Union is still in development to this day, a young organisation by political standards; there are more buildings to go up in the future. Explore some of these buildings today in the European district. Go on a weekday to catch the throngs of 'Eurocrats' running about their days.