Brussels Tourist Information
Tourism offices in Brussels
There are five tourist offices in Brussels. One at each major transport hub. These are Grand Place, Brussels central station, the airport, Brussels-Midi station and European Parliament. You can find them also displayed on the map below.
The most well-known Brussels tourism information centre is based at the Grand Place which is the central medieval square. The tourist information centre here is located at the Town Hall of Brussels. The Manneken Pis peeing boy statue is closeby too.
If you are at the central station, you can walk over to the Brussels Info Place which is open 7 days a week. They also have a café there.
Adresses and opening hours
Brussels International - Tourism & Congress
Town Hall of Brussels
Grand-Place
Open: 9am to 6pm
Winter time: 10am to 2pm
Brussels International - Brussels Info Place (BIP)
Rue Royale 2, 1000 Brussels
Open: 10am to 6pm 7 days a week
Office de Promotion du Tourisme - Brussels Airport
Arrival Hall
Zaventem Airport, Brussels
Open: 8am to 9pm 7 days a week
Brussels International - Midi Station
Central Concourse
Open: Mon-Thu and weekends 8am to 8pm; Fri 8am to 9pm
Winter time: Mon-Thu: 8am to 5pm; Fri: 8am to 8pm; Sat: 9am to 6pm; Sunday and PH: 9am to 2pm
Brussels International - The European Parliament
Rue Wiertz 43, building A. Spinelli
Open: Mon: 1pm to 5pm; Tue-Thu: 9am to 5pm; Fri: 9am to 12pm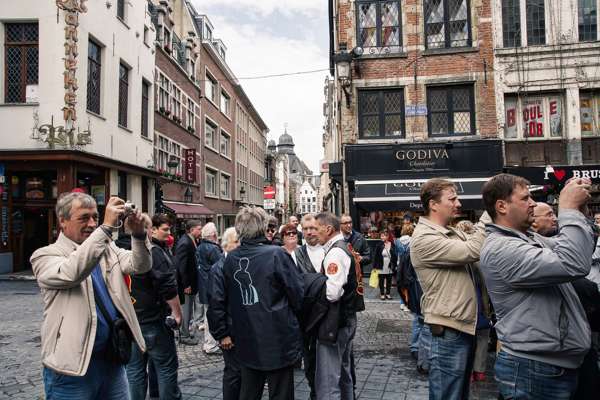 At first it may seem slightly confusing but Wallonia and Flanders have separate tourism offices for the promotion of Brussels and their respective language regions in Belgium. Therefore you can find tourist info on either Wallonia or Flanders and Brussels in different countries around the world to help you plan your Brussels holiday.