Brussels Parks
Brussels has taken a lot of care to include parks as part of town planning and these niches of green are well maintained. They are enjoyed by tourists and locals alike.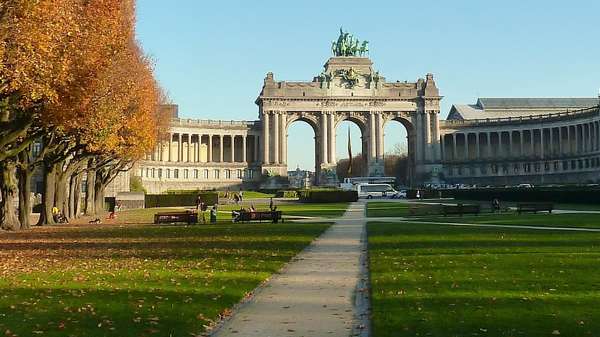 Brussels Park and the Botanic Gardens, both have metro stops. Leopold Park and Cinquantenaire Park are close to the European quarter and there is a beautiful forest 'Foret de Soignes' in the south of the city at the end of Avenue Louise.
Brussels Park
A perfectly rectangular-shaped park that stretches from Place des Palais to Rue de la Loi, this is a park designed to catch your attention should you stumble upon it on the way to the Royal Palace. Fountains, statues, basins and a symmetrical pattern of footpaths cut through this park like angular lattice work. Best enjoyed in the afternoon sun, when around noon, when employees from the surrounding neighbourhood come out to have a quick jog. This park belonged to the Dukes of Brabant (the first rulers of Brussels) and was the location of the riots for independence in 1830.
Brussels Botanic Gardens
Situated at the north of the city centre, the National Botanic Gardens of Brussels have eye-opening collection of 18,000 species of plants. An entire day can be spent here admiring the plants and greenhouses. The Victoria House is filled with giant lily pads. Standard price is €5 and free for children younger than 12 years. A wide range of tourist activities and guided tours are available.
Cinquante means 50 in French and this park was built in 1880 to commemorate 50 years of Belgian independence. The main park area is directly in front of an arch of triumph, giving an effect of stage centre. It is decorated with a large fountain. The entire complex includes the War Museum, Autoworld, and the Royal Museums of Art and History.
Leopold Park Brussels
Leopold Park is a small enclave within a bustling European district. This is where you will find Eurocrats jogging in the afternoon or people taking their fries and sandwiches to each at lunch time. There is a small lake and the Museum of Natural Sciences stands proudly on the banks.