Royal Museums of Fine Arts Belgium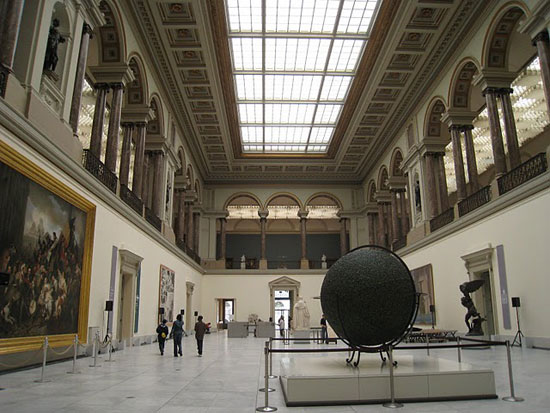 First thing to consider when visiting Brussels museums is the Brussels Card. It will most likely save you time and money.
Also called the Musée royaux des Beaux-Arts de Belgique or Koninklijke Musea voor Schone Kunsten van Belgie, the Royal (koninklijk) Museums of Fine Arts Belgium is made up of two art (kunst) museums built in the same building and connected to the Magritte Museum, which is yet to open.
The top floors, built with warm, mauve-coloured marble columns and floors are the display rooms for Ancient Art (Art ancient or Oude kunst) and 17th to 18th century art. These are easily accessible after purchasing a ticket and entering the museum, artworks are displayed on the mezzanine floor just above the grand hall below. The Modern Art (Art moderne or Moderne kunst) wings are surprising below ground and it isn't just a basement, there are in total 8 floors below ground! The section starts at level -3, where there is a display of comic strips, a cherished art from in Belgium. Steps will take you deep underground to explore the 19th and 20th century pieces as well as the ultra modern 21st century pieces on the next 5 floors. When you find yourself at level -8, it's time to take the 48 person lift back up.
Belgian artists especially those from the lowlands of Flanders in the 17th and 18th centuries were especially noted for their non-religious paintings. Artists such as Brueghel (Elder-father and Younger-son) were not renowned in their days but today symbolise the best of Belgian art and command a high price. These paintings, along with artists such as Rubens and Jordaens are all on display on the mezzanine floor.
Other amenities include the Museum Café, Museum Brasserie (Brewery) and the Museum Shop. Find this museum next to the Belgium Museum called BELvue Museum.
Usually open Tuesday – Sunday from 10am to 5pm. Closed on public holidays and opening hours may change so it pays to call in advance.
Location in Brussels
This museum is located around the Mont des Arts (Arts Hill) near the Royal Palace and Brussels Park. You will find it directly opposite St Jacobs's church at Place Royale.
Address
Royal Museums of Fine Arts
Rue de la Régence, 3
1000 Brussels
Tel: 02 5083211
Website: www.fine-arts-museum.be