BELvue Museum Brussels Belgium
First thing to consider when visiting Brussels museums is the Brussels Card. It will most likely save you time and money.
The BELvue museum has an interesting name because it doesn't say much about what the museum actually holds. It is actually a history of Belgium museum in Brussels, housing some of the archives and artefacts of the recent birth of the nation of Belgium. It traces the history of Belgium from just before 1830, its independence until today and introduces the visitor to each of its monarchies.
The BELvue is a historical monument, once home to royal families and the birth place of Princess Joséphine-Charlotte (one of the metro stops you will recognize). After it was no longer occupied by the royal family it became a hotel called the 'Bellevue' where many dignitaries' and business people stayed until it was converted into a museum. The name Bellevue museum Brussels became "BELvue" a combination of the words "Belgium" and "Bellevue".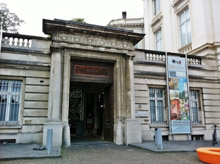 The BELvue museum is a quiet building with three floors of exhibits organized in chronological order. There are two paths that intertwine to give visitors a brief overview of how Belgium, a collection of towns once belonging to the Netherlands, became a nation of its own, and the historical events which occurred alongside the politics and wars to create a full picture of the times.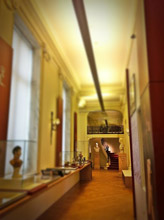 Some of the majestic rooms will definitely remind you that you're walking around a palace. There is an audio guide available but reading the descriptions on the walls (available in four languages including English) and listening to some of the audio commentary provided in the rooms is already sufficient to enjoy the BELvue.
The museum curators left the windows of the rooms open so you can look out to the Mont des Arts (Hill of the Arts) and see the corner of Brussels Park. The commentary will tell you this site was actually the exact place where the Revolution of Belgium against Crown Prince William of Orange took place. So with an audio commentary about the revolution in one ear and your eyes staring out to the cobblestoned square and Brussels Park grounds, you can truly imagine and feel the history of Belgium.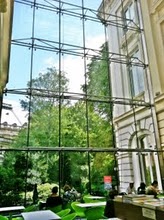 At the end of the short history lesson, which feels like a history book brought to life, you can have a beer or a salad out on the terrace behind the BELvue museum.
Open Tuesday till Friday from 10am to 5pm.
Saturday and Sunday from 10am to 6pm.
Mondays for groups of 15 persons upon reservation.
Adults…€5
Brussels Card…Free
Location in Brussels
This museum is located on the right wing of the royal palace near Brussels Park. Metro stop: Park.
Address
BELvue museum
c/o Fonds BELvue
Plaleizenplein 7 Place des Palais
1000 Brussels
BELvue museum on map