Horta Museum Brussels
First thing to consider when visiting Brussels museums is the Brussels Card. It will most likely save you time and money.
The Horta Museum (Musée Horta) is devoted to design style of renowned architect, Victor Horta, the 'father' of the architectural designed named "art nouveau" which originated at the turn of the century 1900. His home, which was purchased in 1963 by the district of Saint Gilles has become a museum in itself, showcasing the style in the best way possible, how it was meant to be – art within buildings and furniture.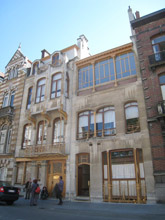 The art nouveau style incorporates interior design with architecture, finding inspiration not from the past but from the present and nature. This art form remained popular until the mid 1950s gained a following of architects who studied with Victor Horta, such as Paul Hankar, Albert Roosenboom and Octave van Rysselberghe.
The museum consists of two buildings, the house of residence and studio. As soon as you enter the building, the warm yellows and browns of mahogany and American ash will welcome you. Coat check ensures you do not take your bags and cameras into the building. The tour begins on the first floor to the left of the entrance where you purchase a ticket and get a small booklet that introduces the museum and its namesake, Victor Horta.
On the first floor is the reception, the music room, dining room and living room. Second floor is the private apartment of Mr and Mrs Horta, the floor above is a guest room and Simone Horta's room followed by the servants' quarters on the last level. A basement downstairs houses some of the miniature models of Horta's buildings. Once you reach the top, notice the stained-glass skylight. This lets natural light into the house and gives the entire stairwell a natural glow.
Horta favoured warm woods as well as copper and painted steel, which he had craftsman weave into knots, 'whiplashes' and twists that are difficult to imagine without seeing for yourself. Pay special attention to these curvilinear shapes present in each design; inspired by nature and art from the Celtic and oriental cultures. Tables, chairs, lamps, vase holders, door handles, banisters, cardboards and candelabras. It is all in the details.
The shop at the entrance sells old postcards, posters and books on art nouveau.
Open 2:30pm to 5:15pm Tuesday to Sunday. Not on public holidays.
Adults €8; students and seniors €4; primary and secondary school children €2,50.
Guided tours are available for a maximum of 15 people by appointment.
How to get to Brussels Horta Museum
The Horta Museum is in close walking distance from tram lines in an old area of the city off Chausée de Charleroi. A good suggestion is to take the metro to "Louise" and take tram 92 or 97 from Place Louise down to Janson.
Address
Horta Museum
Rue Americaine 25
Saint-Gilles
1060 Brussels
Brussels Horta Museum on map