Belgian Food
Apart from mussels and fries, here are a few Belgian dishes you will find on a standard menu at a Belgian restaurant. They go well with a glass of Belgian beer. The taste, style and quality will vary but you will be sure to see two or three of them anywhere from beer cafés to modern style restaurants. Mussels and fries will be described further down the page.
To find out about Belgian cousine consider this Brussels walking tour which combines all the must-do attractions. A taste of mussels, frites, waffles and waterzooi. Also Belgian beers and chocolates. All that while visiting the Brussels city sights.
Filet Americaine
Do not let the name fool you. This is not an American steak made the Belgian way. 'Filet Americaine' is similar to French beef tartar. It is raw minced beef served with a sprinkle of herbs. You can ask for the outside to be slight grilled too. They have a chewy texture and tasty if you like raw mince!
Stoemp
A traditional Flemish style mashed potato with stewed vegetables mixed inside. Served with a long provincial style sausage that is sometimes more tasty than the stoemp (pronounced "shtomp").
Meat balls in tomato sauce
A very simple, warm dish served with fries or salad. Great for winter time when it's overcast and rainy.
Lapin à la Kriek
Another great dish is rabbit's leg in Kriek beer (or other type of beer). 'Lapin' means rabbit in French. It is juicy, sweet and tender; some will say it tastes like chicken.
Cuisse de Canard
Preserved duck's thigh is a slightly salty cut of duck meat. Depending on the quality of the chef, the meat is can be tender or slightly stringy.
Mussels in Brussels
On to the main event that people look forward to when they arrive in Belgium. Mussels (moules) are normally served in a large black pot with the shells still attached. The best thing about the Belgian style of cooking mussels is the range of sauces they use such as white wine, herb, cream and garlic.
To eat them the traditional way, use an empty pair of shells like tweezers to pick the mussels out of the other shells. Unfortunately mussels are not found on every restaurant menu. The best place to sample them is at the rows of seafood restaurants beside Saint Katherine's church at Quai aux Brisques. Another is at Chez Leon, one of the few quality restaurants found near the Grand Place on Rue des Bouchers.
Fries in Brussels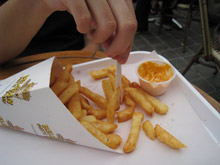 Fries in Brussels are called frites, not French fries or chips. These delectable fried potatoes are truly popular in Belgium and can be found on the plates of many dishes or with a good steak. The best places to eat them though are at snack food trolleys. The most famous frites in Brussels is sold at a shop called Maison Antoine at Place Jourdain near the European Parliament. It is only open for a few hours around lunch time and the lines for this snack stand are long. Another favourite is a small trolley at Place Flagey, where the Café Belge is located.
Traditional sauces include samourai (a spicy mayonnaise and chilli combination), mayonnaise and frites special (with fried onions). Much like the local fish and chip shops in the UK, there are other fried snacks to order as well – sausages, sandwiches with fries inside, skewers and battered meat etc.