Brussels beer tour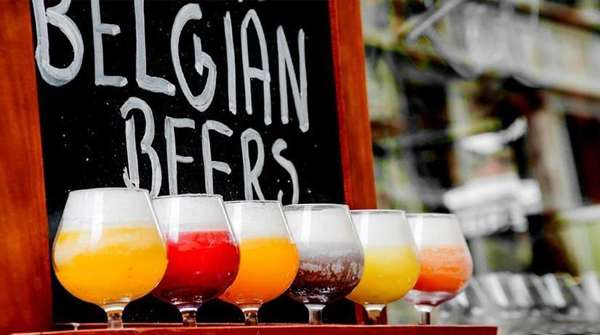 Within an authentic atmosphere of out-of-sight Brussels taverns, you will taste a selection of Belgian beers to acknowledge the elements of flavour and alcohol percentage in combination with various foods.
Included in price
An expert with 20 years of brewing experience will take you to pubs that are visited by locals and are some of Brussels oldest (one since 1695).
While being explained the Belgian beer traditions and beer-food pairing you will get 8 selected beers of different types. And drink them while eating Belgian cheeses, sausages, frites and chocolates. The beers are full size, not sample size.
A beer considered by critics to be the best in the world is included in the tour - The Westvleteren 12.
The Westvleteren 12: Trappist monks from Mont des Cats do no advertising and have repeatedly stated that they only brew enough beer to run the monastery. And will make no more regardless of demand. The beer is only sold to individual buyers in person at the monastery. As stated by the Father Abbott: "We are not brewers. We are monks. We brew beer to be able to afford being monks."
This Brussels beer tour is a pleasant and informative way to spend an afternoon in Brussels. Sometimes a group of people from the tour ends up going to dinner and drinks and dancing afterwards.
How to book
Select your travel date and number of tickets. Then hit the "Order now" button.
A window will pop-up where you insert your name, e-mail address and other needed info. Don't forget to choose your payment card type in the vertical column. If you don't see this window, then minimize your current browser window and other programs. It might be below them.
After clicking "Make your payment" you will be redirected to payment gate where you enter credit card info.
Within 24 hours but usually much sooner you will receive an e-mail with your tickets.
In short
Multi-lingual guide who speaks English, French and German languages
Duration: 4 hours
Start time: 14:00
On days: Every day throughout the whole year
Price: 70€
Meeting point: Grand Place Square 21, in front of the Godiva chocolate shop
Walking distance involved: 2km
Important information: The legal age for drinking in Brussels is 16. Customers below this age will not be accepted on the tour. We also strongly discourage visitors to bring young children to the tour. The atmosphere is not appropriate for young children and it usually disrupts the well being of all customers. Thank you for understanding.