Shopping Arcades in Brussels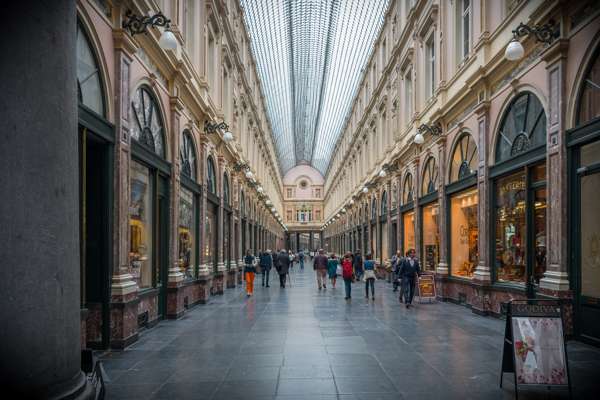 Shopping arcades are the predecessor to modern shopping malls called 'galeries' in French and 'galerijen' in Dutch. Arcades get their name from the word 'arch' but these days the roofs and ceilings could be any shape and could cover an entire block. They are generally a street of separate shops covered by a single roof top. In Brussels, you will be able to see shopping arcades on maps, sometimes marked as pedestrian streets. Rather than being built as independent buildings, they are usually attached to nearby shops with multiple entrances off the street. You could easily miss an arcade simply by mistaking them for another shop entrance.
Galeries St Hubert
Built in 1847, this is one of the first shopping arcades in Europe; it is the length of a small street located near the Grand Place. Rue de la Colline will lead to the main entrance of the arcade. The building is beautifully decorated with bas-relief and chandeliers. The roof is a glass skylight. There are cafés, luxury clothing shops, an arts film theatre and gourmet chocolate shops. Walk through to the centre and you will find that the arcade is intersected by a street called Rue des Boucher. This street is filled with restaurants with beautifully decorated tables, waiters in uniforms and menus that look quite reasonable (€15-16). Great for taking a photo but the food is average and the drinks are expensive!
Galeries Louise and Toison d'Or
For slightly more affordable shopping at one of Brussels arcades, you can venture into Galeries Louise or Galeries Toison d'Or in the Louise fashion district. Both are modern and similar to shopping malls. These covered walk ways are sheltered from the rain and sunshine and allow for gentle strolls along shop windows. Galeries Louise has several floors and a café area on the ground floor with about 4 different cafés featured there to serve tea, coffee and light lunches.
Galeries Agora
Across the street from the entrance of the Galeries St Hubert is Galeries Agora. You may wonder why this shopping arcade is not highly publicised in travel guides. This arcade is the exact opposite of the Galeries St Hubert. Standing at the entrance you will be able to sense the strong smell of manufactured clothing; it is actually the smell of leather. Bright florescent lights and shops stuffed with cheap clothing line the shop windows. Shop keepers sit outside their shops on stalls and the place is normally quite empty.