Museum of Musical Instruments Brussels
First thing to consider when visiting Brussels museums is the Brussels Card. It will most likely save you time and money.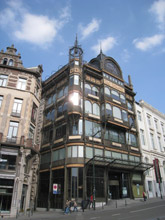 The Museum of Musical Instruments ( MIM, Musée des Instruments de Musique or Muziekinstrumentenmuseum) uses modern technology to give visitors a true audio experience that is second to none. Rather than simply reading about the instruments you can listen to short pieces of most of the instruments. What does a dulcimer sound like? Or the African drums? What about the Jewish harp? You can experience it all here with headphones that are included in the price of the ticket. Music is wirelessly transmitted to the headphones when you stand on the numbered spots on the floor.
Museum exhibits
With over 7000 pieces from all around the world, this museum houses one of the largest collections of musical instruments on the planet.
Information about the instruments is available in French or Dutch in the display cases, but other languages such as German, Spanish and English can be read from the coloured cards in a box to the left as you enter each floor.
The first floor starts off with salon room music, music boxes small and large, which were normally reserved for the rich households. There is also the beginnings of musical history with displays of accordions (the poor man's piano) and some dulcimers (domestic instruments).
The second floor is dedicated to musical history from all over the world. The displays show that music has been with us since the beginning of civilization.
The third floor is called "Strings and Keyboards" and showcases the guitar, violin and piano. The museum shop is here too and sells CDs, books and souvenirs.
On each floor is also a space for performances, dances and gatherings which are available for rent.
Museum opening hours
Tuesday to Friday: 9:30am to 5pm,
Saturday and Sunday: 10am to 5pm.
Closed on Mondays, January 1st, May 1st, November 1st, November 11th, December 25th.
Ticket prices
Adults: €10
Children under 18: free
Seniors 65+, groups of 15+ people: €8
Disabled and their assistants: €4
Brussels Card: Free
How to get to Musical Instruments Museum
The Museum of Musical Instruments is located within an art nouveau style building called the "Old England". Formerly a warehouse. A beautiful glass elevator and excellent patio café can be enjoyed here. The Centre of Comic Strip Art is also housed here.
It is situated close to the Royal Palace and Royale area, where you will also find the Royal Museums of Fine Arts, the BELvue Museum and the Magritte Museum. It is a part of the Mont des Arts group of museums.
Metro stops: Centrale or Parc
Tram lines: 92 or 94
Address:
Museum of Musical Instruments
Rue Montagne de la Cour 2
1000 Brussels
Musical Instruments Museum on map