Brussels Luxury Hotels
Luxury hotels in Brussels are usually 5-star quality hotels with ornate or designer décor.
Different designs of Brussels luxury hotels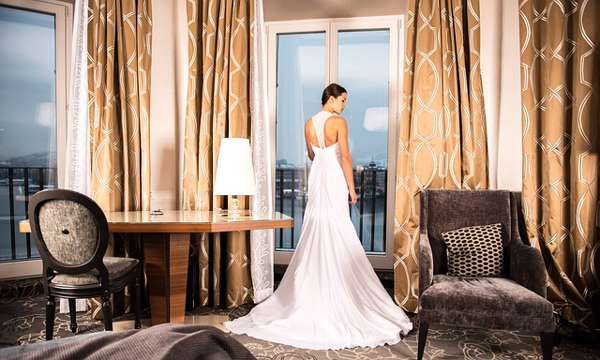 The oldest hotel in Brussels is the Hotel Metropole, which has become famous for its connection with Art Nouveau designers. The traditionally designed and grand hotels include the Radisson Blu Royal Hotel and Conrad Brussels. And the modern design hotels such as the Be Manos and the Sofitel Brussels Le Louise feature modern designs and furnishings that are eye-catching and slightly different to your usual hotel experience.
List of Brussels luxury hotels
By following this link and entering your date of visit you can see the available rooms of Brussels luxury hotels. It is a continually updated list of a well-known company Booking.com. If you find a place that you like, you can also
book a room at Brussels luxury hotel.
Le Meridien Bruxelles (224 rooms)
Also based near the Grand Place and a brisk walk from Brussels Central station, this Brussels luxury hotel boasts both traditional and modern furnished rooms and suites. A bridal suite and, meeting and banquet facilities are also available.
Radisson Blu Royal Hotel (281 rooms)
The Radisson Blu Royal luxury hotel opened in recent years and features a beautiful Art Deco façade as well as a glass dome roof. The rooms are modern and it is only 5 minutes walk to the Grand Place and city centre sights. Free wifi and facilities for business travellers.
Hotel Bristol Stephanie (142 rooms)
This luxury Brussels hotel is based at the prestigious Avenue Louise shopping area. The conference facilities fit 350 guests and there are business facilities. Internet and underground car parks available at extra charge.
Royal Windsor Hotel Grand Place (266 rooms)
Elegant, traditionally designed luxury hotel that is 5 minutes walk from the Grand Place. There are 15 conference rooms for business and banquets. Located just across from Brussels Central station makes it easier for visitors arriving by train.
Hotel Metropole (298 rooms)
Brussels' only 19th century hotel left standing; it is 110 years old and offers traditional grandeur in its surroundings and furnishings. The luxury Hotel Metropole also has its own footpath terrace café is a popular after-work meeting point for guests and business people alike.
Stanhope Hotel (108 rooms)
Located near the Royal Palace, the Stanhope Hotel was the first 5-star luxury hotel in Brussels and boasts an English charm in its design and furnishings. In the same English hotel tradition, guests can also treat themselves at the award-winning restaurant the Brighton.
Conrad Brussels (269 rooms)
The Conrad Brussels is a grand affair at the corner of Place Stephanie and Avenue Louise. It is surrounded by designer shops and a sparkling courtyard for exclusive valet parking. The Brussels Forum is held at this luxury hotel annually.
Be Manos Hotel (60 rooms)
This modern luxury design hotel features dazzling modern artworks and sleek black leather furniture. Guests are welcomed to enjoy facial and body treatments, massages and cocktails to relax after a long day. Located about 10 minutes from Gare du Midi.
Manos Premier (50 rooms)
Hidden away on one of the streets off Avenue Louise, the Manos Premier welcomes guests to a large 2000 m sq green garden and 'Arabian Nights' style spa area to captivate your imagination. It's a luxury hotel with free wifi and business centre facilities available.
Eurostars Montgomery (63 rooms)
This luxury hotel offers traditional elegance and style with a sauna and fitness centre available. It is located near the European Quarters at Montgomery and at the end of the Parc du Cinquantenaire. Free wifi internet available.
Le Châtelain All Suite Hotel (107 rooms)
Although the entrance is small, this hotel boasts a garden, restaurant and large fitness centre. Located just off the Avenue Louise, it is also conveniently close to the famous Chatelain restaurant and bar area. Free wifi internet available, car park is charged extra.
Sofitel Brussels Le Louise (169 rooms)
This is a design hotel that rivals the Be Manos design hotel in style and elegance. Located on the Avenue Toison d'Or, the front entrance doors open up to two sets of elegant long escalators towards the reception and away from the hustle and bustle of shoppers. A modern luxury hotel in Brussels.
Sofitel Brussels Europe (149 rooms)
Located just across from the European Parliament in the European Quarter, this Sofitel is also elegantly decorated with modern furnishings. Each room is equipped LCD TV screens and espresso machines.
Le Plaza (193 rooms)
The Hotel Plaza has a grand lobby fitting of a luxury hotel with traditional elegantly designed rooms and furnishings. A fitness centre is also available. It is located 10 minutes walk to the Grand Place. There is also a bridal suite and business centre.