Porte de Hal Brussels (Medieval Gate)
First thing to consider when visiting Brussels museums is the Brussels Card. It will most likely save you time and money.
Nestled in the outskirts of the Pentagon shape of Brussels inner-ring road, this is a piece of Brussels history preserved. The Porte de Hal (in French), Hallepoort (in Dutch), 'Halle Gate" is a medieval gate, a fortification for Brussels city in the 14th century. The walls have been completely removed from both sides but the fort itself still stands in a cylindrical shape, with ramparts at the top and a black cone-shaped roof. The exhibit is a part of the Royal Museums of Art and History.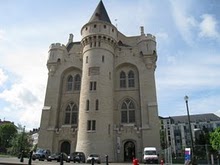 Walking inside these authentic walls makes you feel like you are walking the path that soldiers and archers walked while guarding the city from invaders. Everything has been kept the same except for the installation of a modern elevator to aid those who do not want to walk up the three levels on the spiral staircase. The ramparts visit at the top will definitely require walking and also some investigation work to find the hidden passage ways!
All of the doors are kept closed and visitors are encouraged to find and open them to experience the heavy metal locks, still in working condition. At the tapered windows you will notice places where archers would sit on guard ready for evading enemy attacks while attacking with their own arrows.

On each floor is an exhibit of artefacts from the middle ages. In the basement is the Armoury exhibit with suits of armour and swords. In the Gothic room are more examples of soldier armour, horse armour and maps of the city which the soldiers were guarding. On the next level is the Guilds room, medieval craftsmen who created bow and arrows, arrow guns, shields and other armament for protection of the city. The Battlement walks at the top offer a spectacular panoramic view of the city, with descriptions that you can read of the buildings you see.
For those who are curious, go up to the Neo-gothic roof space to see an empty room but a beautiful structure of the wooden pales woven together to hold up the cone-shaped rooftop. The deep red walls give it a mythical feeling.
Porte de Hal is a fascinating journey into the realm of knights. Included in the Brussels Card.
Opening hours
Tuesday – Friday 9:30am to 5pm; Saturday – Sunday 10am to 5pm
Admissions
Adults…€5; students…€4; children under 13 with family…Free
Audio guides…€2
Brussels Card…Free
Location in Brussels
Porte de Hal can be found at the southern 'tip' of the inner ring road, Brussels city centre. There is a metro station called Porte de Hal which exits out to the gate. The height of the tower cannot be missed when you exit the metro station. To get there by driving, simply follow the inner ring road.
Address
Porte de Hal
Boulevard du Midi
1000 Bruxelles
02 533 34 52
Website: www.kmkg.be