Atomium Brussels Belgium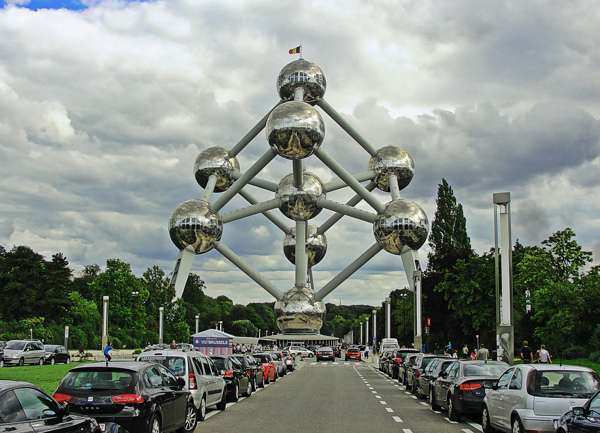 The Atomium represents a single unit of iron crystal magnified 165 billion times. There are 9 spheres representing atoms which are connected by tubes with escalators and lifts. Each sphere is about the size of a large apartment (18m diameter).
Atomium ticket price
To reserve your place you can buy online tickets that you either print or just show from a smartphone, tablet or computer. The best thing is that with this service you will go immediately inside avoiding the waiting line. You can buy these at
Atomium online tickets website.
Adults 18-59: €12
Seniors 60+: €9
Teens 12-17: €8
Children 6-11: €6
Children <6: free
People with disabilities: free
What is inside of Atomium Brussels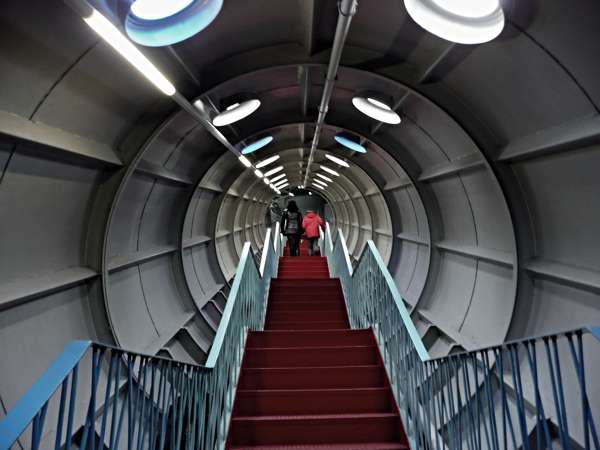 Not all Atomium spheres can be visited. The three outer spheres that are below the top one cannot be. The rest of the spheres contain various attractions and can be accessed.
Inside you can see a permanent exhibition about the world's fair 1958 and the Atomium building. Also a temporary exhibition that is changed about once a year and for the year 2017 it is about a luxury commercial flight of the 20th century.
In the top sphere there is a restaurant with panoramic view. Using the telescopes that are in the top sphere you can see all the way to the city of Antwerps. Even see its cathedral and port. This Atomium restaurant is reachable by an elevator from the bottom of the structure.
The other four spheres open to the public are reachable by escalators only, which could be difficult for people with reduced mobility.
There is also a place reserved for events, and a kids sphere for school events. However these are not part of a regular tourist visit.
Atomium opening hours
Every day of the week: 10:00 - 18:00
Exceptions:
December 24th: 10:00 - 16:00
December 25th: 12:00 - 18:00
December 31st: 10:00 - 16:00
January 1st: 12:00 - 18:00
Times between 12:00 - 14:00 and 16:00 - 18:00 tend to be less crowded and therefore it is better to visit The Atomium at those times.
History of Atomium
It was designed by a Belgian engineer André Waterkeyn and built in 1958 for the Brussels World's Fair. The Atomium Bruxelles is the only structure left standing after the event ended. World's fair (or World Expo) is an international event which began as a technology exhibition and later progressed towards national propagation. Next one will be in Dubai in 2020.
From 2004 to 2007 the atomium was under reconstruction and was covered with shiny stainless steel instead of faded aluminium that was there since 1958.
Heysel Area
Other attractions that require a lot of space including the Mini-Europe theme park, the Kinepolis cinema complext (28 screens and IMAX) and a water park with slides and pools are all in the area. Just down the road is also the Chinese Pavilion and Japanese Tower which makes the Heysel area a complete daytrip in itself.
How to get to Atomium
Atomium Brussels location is in an area north of the city centre called Heysel. It is the last stop on line 6 of the metro. Or on tram line 7. From the metro or tram the Atomium is a short walk. You can't miss it, it's gigantic! :-)
Address:
The Atomium
Eeuwfeestlaan / Boulevard de Centenaire
B-1020 Brussel (Laken)
Metro stop: Heysel
Brussels Atomium on map