Brussels Airport Hotels
Most Brussels hotels are listed on a large booking engine. It offers live updated database of available hotel rooms and the possibility of instant reservation. It is the best way to compare. A trusted service with information, good photos and updated prices. You can access their listings of selected airport accommodation through the link below.
List of Brussels airport hotels, enter your travel date to see prices.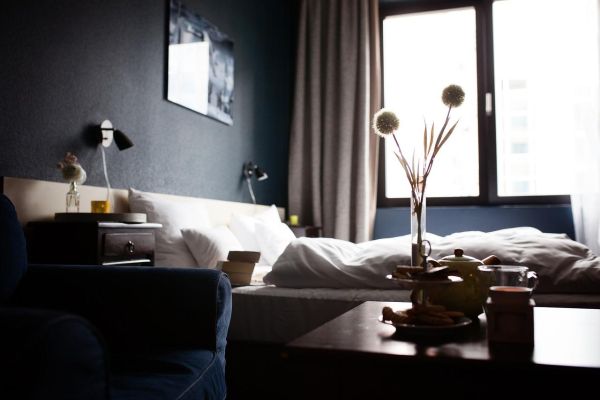 The Sheraton is the only one located immediately at the terminal. You can see its available rooms and prices by following the link above. Booking online is also possible.
Then there are other Brussels airport hotels that are located just few minutes away in the villages neighbouring the Brussels Zaventem Airport. Most of them have free shuttle bus services which makes them just as convenient option. Hotel shuttles leave from coach park at Level 0.
Hotels close to Brussels Airport:
Sheraton Brussels Airport Hotel and Conference Center
The closest hotel to the Brussels Airport terminal, the Sheraton has all the amenities needed for a comfortable stay just a few minutes walk from the gates of the airport. It is the only Brussels airport hotel that is situated on the premises of Brussels Airport and is most suitable for busy travellers with overnight transits or early morning flights.
Crowne Plaza Brussels Airport
This is another five star hotel near the Brussels Airport terminals. The Crown Plaza Brussels Airport is based in the Corporate Village and opposite to a park, which makes it very convenient for travellers with business or conferences based there. Apart from conference facilities it also offers full access to fitness centres and steam baths.
Holiday Inn Brussels Airport
This is the only hotel near the airport with an indoor pool for all guests. The Holiday Inn Brussels Airport (different to the Express Holiday Inn) is about 5 minutes away from Brussels Airport with a free shuttle bus. There are 310 rooms.
Holiday Inn Express
A 3-star establishment that is slightly further from Brussels Airport and closer to NATO headquarters (5 minutes) and the city centre. It still offers a free shuttle bus to the airport. Thir facilities appeal to traditional comforts and have 87 rooms. Since space is limited be sure to book ahead.
NH Brussels Airport Hotel
NH Brussels Airport Hotel is another 4-star hotel that is a short shuttle bus ride from Brussels Airport. It features billiards and a Jacuzzi for those in need of relaxation. This is a very stylish hotel with all of the latest modern facilities at reasonable prices.
Hotel Novotel Brussels Airport
The Novotel near the Brussels airport is a 3-star hotel with a lot of amenities including 24-hour shuttle bus service to Brussels Airport (great for early morning or late night flights) and an outdoor swimming pool for those looking for a swim in the summer.
Campanile Brussels airport
A simple 3 star establishment that is still relatively close to Brussels Airport. Although there is no shuttle bus service, there is car parking for guests and also taxi services. The rooms are located in pleasant surroundings and gardens and it is only 8 kilometres from the city centre.