Brussels Museums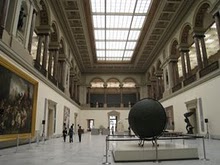 Sampling some of the museums before beginning your tour around Brussels will give you a sense for history and knowledge of what you see. For example, visit the Museum of Brussels before exploring the city with new eyes. Or have a brief tour of the Museum of Belgian Brewers to understand the types of beers you will find on restaurant menus and how they make it. A museum pass that is mentioned below will be useful for this.
The types of Brussels museums vary. There are large, spacious and information-rich museums such as the Museum of Natural Sciences and the Museum of Fine Arts. And then there are small, interest-based museums such as the Belgian Beer Brewers museum or the Museum of Cocoa and Chocolate.
Brussels Museum Pass
A Museum Pass in Brussels is called the Brussels Card. It includes free entrance to 32 museums and discounts at attractions, tours, bars, restaurants, nightclubs... It is good value for money for visitors that want to soak in information about Brussels history and culture before continuing on their journey around the city.
Museum of Brussels City
Browse this museum for a quick history of the city that you are about to visit. There are three floors, each dedicated to several aspects of the city from economic development, social development, and city development to the history of Brussels' favourite mascot the Peeing Boy. For only €3, there is a great deal to see – just to see the 100 costumes for the Mannekin Pis is already worth it.
Museum of Musical instruments
This is a Brussels museum that is filled with over 7000 pieces of musical history and instruments from around the world. The fee includes a headphone that will help you listen to the musical instruments being played. At the very top of the art nouveau style building is a café with a wonderful patio that has a magnificent panoramic view of the city and its gardens.
Museum of Natural Sciences
A gigantic building that houses equally gigantic bones and fossils of dinosaurs and blue whales, the natural history of the world is explored extensively in this cube-shaped building. The museum is located near the Parliament Building on the banks of Leopold Park. Its interactive displays are perfect for children and adults of all ages.
Horta Museum
An art nouveau Brussels museum that is set within one of the first examples of art nouveau – Victor Hugo's own residence in the early 1900s. The Horta Museum mesmerises its visitors with sculpted wooden and steel decorative art that is built into the house itself, making it a must see. Brussels and Belgium is filled with examples of art nouveau history, learn more about it by starting at the museum.
BELvue Museum
Brussels BELvue Museum is dedicated to the history of modern Belgium. This museum takes you through a history of Belgium from the beginning when Belgium became an independent nation in 1830 until today. The museum itself was once a palace that became a hotel and now a museum of history.
Museum of Belgian Brewers
For an authentic taste of Belgium, you cannot go past the beer. This Brussels museum is small but friendly and housed in the guild house or trade association of Belgian Brewers'. Lovers of beer will enjoy the video with the history of beer, beer making process and introduction to Belgian beers. Discoverers of beer, who may be slightly baffled by the passion for this common drink, will find it an eye-opening experience. A beer is included in the entry price.
Museum of Cocoa and Chocolate
Another institution of Belgium, which surprisingly doesn't have its own national museum, is chocolate. Tourists flock to Belgium to sample some of the most delectable treats known to humans – chocolates filled with creams, nut pastes and liqueurs – also known as pralines. This small museum offers a demonstration of how pralines are made and some information about the origins of the cocoa bean.
Autoworld
The Autoworld Brussels is a museum collection of old cars dating back to the late 1890s when the first cars rolled onto the roads. Based at the Parc du Cinquantenaire, this warehouse holds over 400 vehicles and stocks mostly European or U.S. original models. It's a great walk back into history for car buffs.
Toy Museum
If you are looking for a novel place to bring children or adults who are crazy about toys, this is the place to be. A three-storey mansion that is filled with toys from top to bottom, this children's museum will excite your imagination and take you back to the days before video games. Yes, the toys here are nostalgic but still practical and playable.
Comic Strip Museum
The Belgian Centre for Comic Strip Art was built in an historic art nouveau building that used to be a shopping mall. It's a great opportunity to admire the comics and the architecture! The comics museum takes you on a tour of how a comic strip is created, the story of Tintin and his creator Hergé and famous Belgian artists. Finish off with a tour of the comic book store or the library downstairs – it perfectly captures the modern lifestyle of Belgians.
Royal Museums of Fine Arts Belgium
If you enjoy art museums, then the Royal Museums of Fine Arts (not to be mistaken for the Fine Arts centre) then go to the Royal Museums of Fine Arts where the old and new are displayed next to each. Belgian artists take centre stage at this Brussels museum, which is known for its exhibition of human society. This museum sits atop the Mont des Arts (Kunstberg) the art and museum hill of the city.
Halle Gate
Once upon a time this medieval gate was part of the fortifications of Brussels city. In the 14th century, this tower was a part of a pentagonal wall that surrounded the inner-city of Brussels. Now it stands alone but has been turned into a museum to showcase how the city once defended itself from invaders. The ramparts give a great view of the city.
Museum of Costume and Lace
The Brussels Museum of Costume and Lace celebrates the unique textile heritage of Belgium. It is dedicated to temporary exhibitions with costume, fashion and lace themes. It is situated near the Grand Place so it is within walking distance to many other museums within the vicinity.