Brussels Museum Pass
If you are interested in bounding from one museum to the next to catch a quick glimpse into Brussels life, history and European culture then grab a museum pass – "The Brussels Card". These cards can be purchased for 1 day, 2 days or 3 day access to museums and include an unlimited transport pass, which allows you to take the trams, buses and metro all over the city.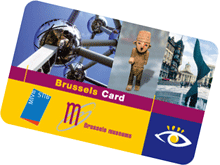 Entrance prices to museums vary from €3 to €9 so to get the most out of a 1 day card (€20) go to at least 2-3 museums in the day and use the unlimited transport pass. The most densely packed area of museum Bruxelles is in the city centre near the Grand Place and the Royale area – BELvue Museum (a museum about the history of Belgium), the Royal Museums of Fine Arts, the Museum of Musical Instruments and the Magritte Museum are all in that area.
Museums that will introduce you to Brussels include: the Museum of Brussels City, the Museum of Belgian Beer Brewers and the Comic Strip Art Centre. Unfortunately the Museum of Cocoa and Chocolate and the Horta museum are not included on the card, but still worth exploring.
If you are a lover of arts and science, the best value for money is the Royal Museums of Fine Arts and the Museum of Natural Sciences. They both house giant exhibitions and cost €7 to €9 to see. Together with an unlimited transport pass, you are already getting your money back in one day.
The Brussels Card includes:
- Entry into 30 museums for free
- Free transport for the duration of the pass
- Vouchers for discounts and free items
- A city map
- A museum map
- A short museum guide book
You can purchase the guide from any Tourism Information Office or online.
Website: www.brussels-international.be