Toy Museum Brussels
First thing to consider when visiting Brussels museums is the Brussels Card. It will most likely save you time and money.
The Toy Museum in downtown Brussels close to Botanique (also called Musée du Jouet or Speelgoedmuseum) is a large mansion with 20 rooms and 1000 square metres of space. It is filled to the brim with toys, toys and more toys. The treasure trove of toys from all over Brussels is the only thing that covers the three story establishment and there is hardly any room for display shelves.
Piled high up to the ceiling are toys from all over Brussels and Europe, donated by many families who were doing their spring cleaning. It is a theme museum which doesn't contain a lot of information to describe the toys but does offer a sneak peak into what children were playing with in the 1950s to 1980s. On the first floor are prams, rocking horses and child sized play-kitchens made from wood. The second floor staircase landing has play castles and inside are theatres made from paper, shadow puppets and a full marionette theatre room where shows take place! Moving up to the third floor is where children can sit down at two large tables to play wooden tic-tac-toe.
There are no Xboxs or Playstations here. These toys are all manually operated and no batteries inserted, except for perhaps the railway track set in the Belgian countryside – a sign post for Liége and Ostende stands on the side of the railway.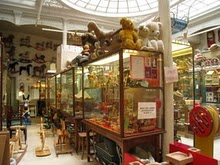 This children's museum is perfect for "2 to 102" years of age says the museum, which has permanent and temporary exhibitions inside and outside Belgium. Together with toy displays, the museum is a play-land for children, season tickets that last for 12 months are available for purchase and the museum runs "Teddy Bear Days", mechanical toy performances and workshops with music and rhymes.
For adults it is a blast from the past because many of the toys would have been available to them as children. Simple toys such as easy-bake ovens, dolls with moving eyes and steam train sets. For those who do not like Chucky, you may want to go with a friend because during quite times, the museum can be slightly creepy.
How to get there
Metro stop: Botanique or Madou
Trams: 92 and 94
Opening hours
From 10am-12pm; 2pm-6pm, 366 days a year!
Adult…€5.50; Enfant, senior, student…€4.50; Groups…€4.5 pp; Families…€18
Brussels Card…Free
Toy Museum address
A.S.B.L. Musée du Jouet
Rue de l'Association, 24
1000 Brussels
Brussels Toy Museum on map