Museum of Brussels City
First thing to consider when visiting Brussels museums is the Brussels Card. It will most likely save you time and money.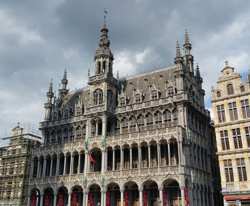 In French: Musée de la Ville de Bruxelles
In Dutch: Museum van de Stad Brussel
Housed inside the King's House (Maison du Roi or Broodhuis) at the Grand Place, directly opposite the Town Hall in a neo-Gothic greyish building.
Brussels City Museum exhibits
Upon entering the museum ground floor and turning left you will begin with the history of Grand Place. Especially of the 600 year old building in which you are standing. Sculptures that used to adorn its facade are placed here to show the precise craftsmanship. Detailed information is provided in English, German and other languages. After viewing Brussels porcelain, pewter and tapestries, which were booming industries in middle ages, you will move up to the first floor where the story of the city begins.
The first floor houses maps and 3D model recreations of the city as it evolved over the middle ages. The most intricate and fascinating model is one of the 13th century Brussels. The artist was able to depict a small town, recently fortified into a pentagon shape. The descriptions of each landmark include modern day references to streets that still exist today. The Grand Place was a small patch of dirt at the time and the Seine River still flowed like a trickle through the town.
On the second floor you will be greeted with the current-day glory of Brussels City. It's "Oldest Citizen" as some nicknamed the Mannekin Pis or Peeing Boy. A short video with English subtitles plays on the landing before you enter the room with the costumes. This video will tell you the history of the Peeing Boy along with some odd comments from tourists recorded for fun. After the video, find your way into the Mannekin Pis' dressing room, which displays around 100 of its 700 costumes.
This museum will leave you with the message that Brussels City is a "free, amusing and carnivalesque" city and the Mannekin Pis is a perfect symbol of that freedom. It is a museum that explains the history and myths of the city to all guests.
For people with disabilities
The Brussels city museum is housed in a historical building that has no lift and the upper floors are accessible only by stairs. Therefore people with disabilities might have trouble accessing them.
Brussels City Museum opening hours
Tuesday to Sunday from 10am to 5pm.
Closed on Mondays, January 1st, May 1st, November 1st, November 11th, December 25th
Brussels City Museum ticket prices
Adults: €8
<18 years old: free
Seniors: €6
Students: €4
Brussels City Museum Location
Probably the easiest to locate history museum in Brussels City. It stands opposite the Town Hall right at the central square called the Grand Place.
Metro stops: Centrale, De Broukere, Bourse
Busses number: 48, 95
Belgian railways train: Central station
Address:
The Museum of Brussels City
Maison du Roi
Grand Place
1000 Brussels
Brussels city museum on map