Belgian Brewers Museum
First thing to consider when visiting Brussels museums is the Brussels Card. It will most likely save you time and money.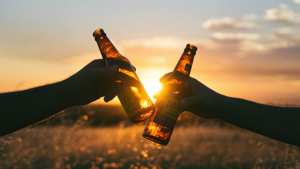 This museum was built into the basement of the Brewers' House. The guild house of trade association of brewers in Belgium. You can explore brewing equipment, watch a video about beer and sample a light or special beer at the bar at the end of the tour.
Brussels beer museum tour and exhibits
The tour begins downstairs as you enter the Brewers' House (Het Brouwershuis or La Maison des Brasseurs) and turn left down a narrow set of stairs into the basement. Its dark interior will remind you of middle age taverns, with large wooden barrels, tables and chairs. A barman will greet you with a booklet about beer (English, French and Dutch) and let you know that after your tour, you can sample some for free.
Once you have explored and taken photos of medieval beer-making instruments move into the backroom where you will be greeted with modern equipment, giant vats and pipes. A video in English plays on loop to give you an idea of the history, process, ingredients and recipes of beer brewing. The video lasts about 45 minutes so sit tight.
What will you learn in beer museum
At the end of the tour you will understand why appreciation of beer in Belgium is equivalent to the appreciation of wine in France. Why there are different glasses and serving method for each beer. And of course all the trivia surrounding this topic.
The Brewer's House is quite a small museum, quaint but friendly. After learning the interesting facts, you will want to venture out into the restaurants and tell your friends what they're drinking.
Brussels beer museum opening hours
Open everyday from 10am to 5pm.
Brussels beer museum ticket price
Price includes entry and a beer at the bar.
An individual entry ticket costs €5
A group of at least 10 people can entry at €4
How to get to Belgian Brewers Museum location
The Museum of Belgian Brewers (Le Musée des Brasseurs Belges) is to the left of the Town Hall in a baroque style building decorated with golden bas-relief of barley. At the top of the building is a statue of Charles of Lorraine riding a horse and flanked by two dolphins.
Address:
Belgian Brewers' Museum
Brewers' House
Grand Place 10
B-1000 Brussels
Belgian Brewers Museum on map